"Relationships are vital to success. Do you express your care and concern for others outwardly?"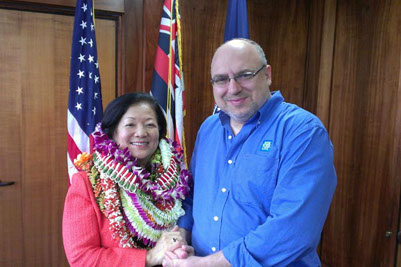 Senator Mazie Hirono with Troy A. Lyndon after her Hawaii swearing-in ceremony on February 19, 2013.
What Others Say

"Troy, it is impressive what you have accomplished in such a short time [for New York Life Hawaii]. You are a valuable resource and bring tremendous skills and energy to the table."
– Michael Ceci, Managing Partner
New York Life Hawaii

"I have had the privilege of working with Troy on several collaborative projects. I have found him to be knowledgeable, easy to work with, and timely in doing his part. In addition, he brings dedication and passion to whatever task is before him."
– Mark Carver, Executive Director
Purpose Driven Church

"Troy Lyndon is an exceptional entrepreneur. He is very bright, creative, persistent, diligent, effective, and positive and so much more. I have worked with him through some very challenging situations and have seen him up close display many of the best characteristics of leadership. I would say the single thing that seems to stay with me is his constant ability to learn and adapt in very tough circumstances. He is an asset to any project. I am very fortunate to have developed a relationship with him, and am honored that we will be able to work together more."
– Leslie Bocskor, President
Lenox Hill Partners, LLC

"Troy is a go getter and a real visionary. I've never met his equal. He sets his sights on things that most people would be afraid to attempt and he doesn't stop working at it until he has good results for everyone involved. It has been a pleasure working for him on several projects throughout the years and I can't wait to see what he does next! I'm sure it will make headlines."
– Joel Payne, International Walt Disney Fine Artist
WishPictures.com

"For our first version of iLumina, your work was integral to our ability to complete the project in a timely manner. Our experiences working with you over the course of the past 2 years were quite positive and if opportunity arises in the future, we look forward to working with you again."
– Nelson Saba, President
Visual Book Productions, Inc.

"Troy is a great man of character and integrity. He executes consistently at a high level and challenges everyone to do the same. He is approachable and professional – and great to work with."
– Douglas Milnor, Founder & CEO
Tectonic Audio Labs

"Troy, thank you so very much for your long hours and selfless efforts on the Amsterdam project. Your vital contribution to the Evangelism Toolbox gave many itinerant evangelists a fresh and dynamic resource to touch countless lives for the kingdom. To God be all praise and glory! I am delighted to serve with you in this momentous time of unparalleled divine opportunity."
– Bill Bright, President
Campus Crusade for Christ International

"Troy is creative, inspiring and energetic. Whether supporting your dreams or following his own, Troy is savvy and able to create timely, cost-effective solutions and manage people and processes to get the job done. He has broad-based experience that has given him 'real world' understanding of challenges facing business and ministry. Supportive, thorough, and committed to quality, he is valuable asset to anyone fortunate enough to gain his interest."
– John Bryant, Sr., Former VP
Biblesoft

"Troy is a visionary and great person to work with. Troy has remarkable people skills and everyone enjoys working with him."
– Dereck Wong, Southwest Region Director
Links Players International

"For many years, Troy, I have appreciated that you are a tremendously hard worker, always highly motivated and focused on the needs of your customers. In this world of unreliable and greedy individuals, you are clearly one of the most reliable men I know and have become a dear friend. Your high values and family devotion is also uncommon. I know that anyone who is given the opportunity to know or work with you, will be blessed by your many talents, relationship, and continued encouragement to seek divine providence in everything. May God continue to bless you."
– Herbert Kellner, President
ITD Communications

"Troy Lyndon is a visionary. His management skills are unmatched. In working with Troy on almost any issue, I've clearly seen why his career has been so amazing."
– Raphael P. Haddock, Director
Lenox Hill Partners, LLC

"Troy is an action oriented new media professional with a broad array of skills and contacts complemented with the vision and foresight necessary to excel in today's fast-paced, ever changing business environment.. Troy knows technology well and creatively applies his gifts to create interesting and effective cutting-edge products and solutions. He also brings with him a wide network of coworkers and therefore is readily able to put together effective teams to manage and produce a wide variety of projects of various sizes, complexity and scope."
– David L. Orris, Sr., President
Here's Life Publishers

"Troy has consistently delivered on quality productions. His focus continues to impress me as I have seen him navigate many obstacles towards a goal. Without hesitation, I would recommend him to anyone."
– Dan Hardaway, Director of Strategic Partnerships
CRU – Campus Crusade for Christ Intl'

"I have the utmost respect for Troy and his organization. His team has done an excellent job completing assigned projects. Troy goes the extra mile to ensure client satisfaction and he has the utmost integrity in his personal and business dealings."
– John Benza, IT Consultant
Global Media Outreach

"In the 15 years I've known Troy, I have found him to be extraordinarily intelligent and creative. Infrequently do I meet such talent in someone so personable, and I've found him to be deeply caring and committed to his family, clients and friends. He has an extraordinary level of perseverance that I feel is responsible for the high level of success that he has thus far achieved. All that know and work with Troy will experience his remarkable nature, giving God glory in everything he accomplishes."
– Jack Thornton, President
CetaSoft Inc.

"Troy, I have a very high regard for you. I wish you the best of success in your endeavors and am delighted to help you in any way I can."
– Marty Colby, Former Chairman-of-the-Board
The FOX Network

"Troy Lyndon made our product come to life with his creative forte and valiant work."
– Tom Dennen
Foreign Language Coordinator, LINC-Net
Campus Crusade for Christ Int'l

"In teaching the second session, Mr. Lyndon, instructed and directed the students in a team effort to complete an interactive presentation of excellent quality for the local non-profit organization of the Ronald McDonald House…He has always presented himself professionally and does all asked of him."
– Lois Brodersen, Director
Education Platt College

"Thank you Troy so much for creating a great presentation for me to show investors. You are such a blessing!"
– Jaipaul Swamidass, President & CEO
ChristianLiving.com

"Troy is very ambitious. He worked well as one of our Executive Producers. He has a lot of experience and was instrumental in the development of several technology projects in our ministry."
– Doug Weiss, Media Producer
CRU – Campus Crusade for Christ Int'l

"Troy's dedication and hard work over the years has given our company a strong web presence and has allowed us to tap into some new markets, via the Internet."
Brent M. Kulp, Vice President Sales
TrafFix Devices Inc.

"When working together, Troy was fair and honest – having the right goals in mind. The video game world is a cutthroat one and to be able to keep a ship on an even keel is no minor task, and while Troy was President, we employees always felt secure."
-Phil Weeks, Technical Director/Owner
Wreck Center Games LLC